HOBART #11
out now!






Keeper
Chuck Augello

Antoine is Not Here
Tom DeBeauchamp

Like That Thing Only Different
Lucas Church


Russians
(from The Book of Freaks)
Jamie Iredell





Grace Krilanovich
Gabriel Blackwell




Jamie Iredell is the author of Prose. Poems. a Novel. (Orange Alert Press, 2009). He was recently included on Dzanc Books' "20 Writers to Watch: an Alternative List". "Russians" is an entry from his second full-length work, The Book of Freaks, which is forthcoming in 2011 from Future Tense Publishing. With a future purchase of the above-mentioned volume, one may then read "Japanese, The".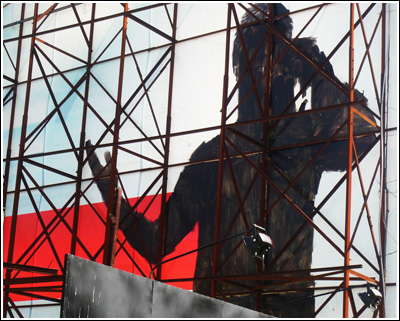 In Russia there are so many Russians! It's like one of those neighborhoods where a bunch of Russians live, but way bigger. This place is big. It's like they took a country the size of Russia and filled it with Russians. One cannot slip through Mayakovskaya Station without listening in on a spit forth "Neeyet!" or "Spiceeeba!" which are the Russians' favorite words. These mean, respectively, I will not smile for your photograph, and our cuisine is not very spicy. Every Russian has a little piece of the world's largest country, and that piece is among the world's smallest apartments, except for the Japanese (see "Japanese, The"). Should you—god forbid—go whistling Dixie in one of these microscopic rooms, every microscopic ruble and microscopic kopek sprouts microscopic wings and flaps away in a dizzying scatter of impoverished fractals. Every Russian also has a bear pedaling a too-small bicycle around their living room, a bear wielding a hockey stick. While the bicycle is fitting for this room's size, the bear is not. How this was accomplished is yet to be determined. All that's known is that for more than sixty years Russia has been an international leader in science and technology. In Russia there are no cold drinks in one of Earth's coldest countries. Want ice water? That'll be room temperature. Meantime ice floats down the Arbot, down Nevsky Prospekt, down all the streets, which are themselves rivers of ice. Want a cold beer? Room temperature beer is ubiquitous in Russia. In fact, all of the liquid in Russia is beer. Or tea. Even the Russian's blood—composed of beer and tea—is room temperature: thirty-seven degrees Celsius. And good God, when you enter these rooms, stripping off your boots and fifty-two layers, the Russians start toasting you. They toast your health, your visit, your friends, your family, your pets. They toast toasting. Then they'll kiss your sweaty cheeks, and you'll learn the Cyrillic alphabet.