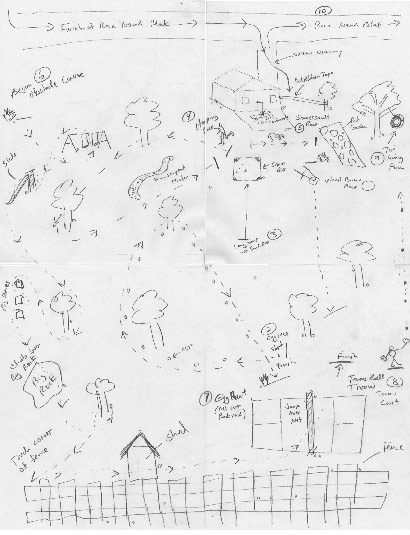 EXCERPT:

At the kitchen table, tape four sheets of computer paper together and begin to plan the course. Draw a box for the house in the center; mark down the narrow driveway and the street it leads to so you know your limitations. Put in a few trees if you like, and if your backyard has a garden or a hill or sandbox, or a knee-high planter that's in the shape of a serpent, be sure to draw those too. They could serve as useful obstacles later on.


When your wife Cindy asks if you're going to waste the whole morning planning the decathlon, tell her yes. If she asks if you will be helping her clean or shop or mow the lawn, tell her no.


The race should start and end in the same place: next to the back porch. A red ribbon should be run from the house to the nearest tree for the winner to break through, hands held high, when the race is done. Gatorade must be ready to go around, preferably from a cooler, which can also be used to pour over the planner of the race, if the kids are so inclined.


After drawing a line with an arrow pointing to it and the words "red ribbon" written above, you may begin to plan the first event. The wheelbarrow race would be a good choice, as the paired nature of the event insures Daniel will not be the sole loser, and will then probably make it to the second event.


Draw a wheelbarrow next to the house and several dotted lines to the two large trees in the middle of your backyard. Do not worry if the wheels on your drawing are misshapen ovals and the handlebars much too long.