(excerpts, with sketches)


* * *
I find him sweating under a burned out streetlight on the Brooklyn Bridge, one cigarette hanging from his lips and one shaking in his hand. "It's whiskey," he says. "I'm going to sweat out the whiskey. I sweat whiskey, shit beer. Wine gets cried out. Rum gets fucked out. But this is whiskey.

* * *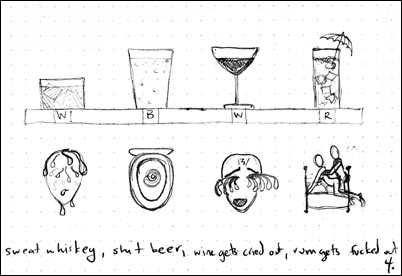 * * *
He is burrowed behind the washing machine dry heaving over mismatched wool socks.
"I am so weak," he stammers—eyes trying to push out tears, throat trying to push out bile, fingers wedged between his toes—"I can't feel them. They're stumps and the washer is grinding into my hipbone but who cares?"
He laughs like a ship burning. I light another cigarette and throw the old butt into the suds.

* * *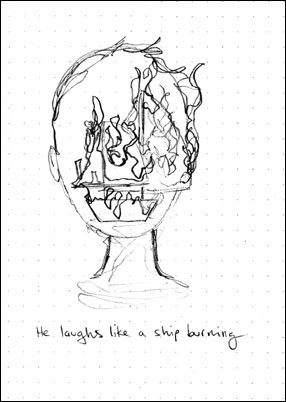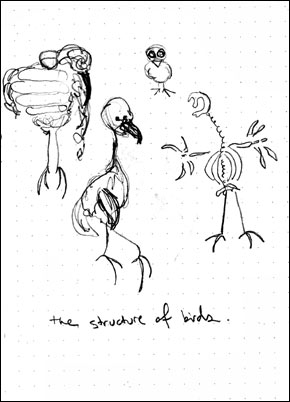 * * *
"Do you think," he asks, "if I swallow them, baby will feel them? I want him to feel your hair. I want him to taste it."
Cold rushes to my edges. A pigeon walks in the window and over the couch onto my foot. It circles, its cold claws wet and dirty on my skin. One of its toes is lost and it pecks at the place where it should be, looking at me with its awful oily eyes. I look away and it flies out the window and over the street.
"I think maybe he feels it," he says. "He feels like he's happy."
The structure of birds is so precarious. They barely exist; you could crush them with one hand.
"You're right," I say. "I think he does."
* * *
Read "Pregnant" by Catherine Zeidler in Hobart 6.